There's nothing more frustrating than receiving feedback from a professor and realizing you have no idea where to start. It's even worse when that feedback is accompanied by a poor grade and your GPA is on the line.
If your professor's feedback feels opaque—or if they're simply too busy to give you the individualized attention you need to succeed—then it's time to take things into your own hands.
A notorious overachiever and lover of academic writing, Alexis is available to edit, coach, and cheer you on to success. Her academic editing service for students is most helpful to those who need a line-by-line response to what is and isn't working—as opposed to generic feedback from a professor or teaching assistant. If you want your current draft dissected, improved, and primed for precision, look no further.
Alexis' academic coaching for students is most helpful to those who need one-on-one assistance and who need to thoroughly discuss their ideas in order to best synthesize them. Whether you're just in the idea stage or you have a final draft that needs improvement, Alexis will advise you on how to take your piece to the next level.
Alexis works with undergraduate and graduate students, as well as scholars at the Ph.D. level. Her strengths include literary criticism, research analysis, and case studies across disciplines—although English, law, and political science are her favorite fields of study. She also provides editing and coaching services for aspiring medical and law students who need help crafting compelling personal statements.
Note: Alexis is selective about projects she takes on for students in the hard sciences and considers them on a case-by-case basis.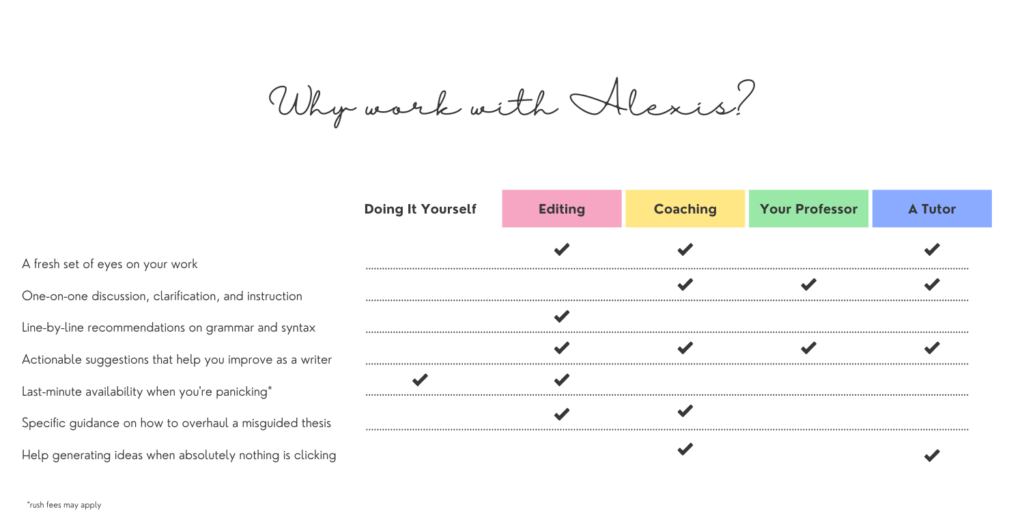 Click HERE to inquire about editing or click HERE to book a coaching call.